blog

/
A Love Letter to Les Aubes Musicales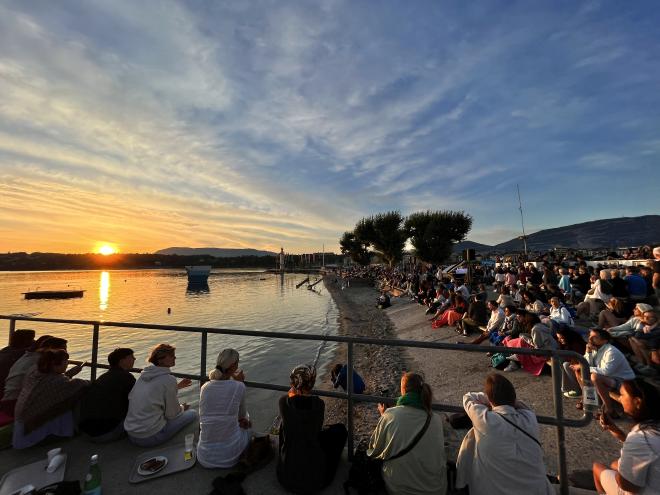 "Les Aubes Musicales" is an institution in Geneva: During the summer, everybody's favourite lido, Bains des Pâquis, offers a series of free concerts at sunrise, usually starting at 6am.
I cannot say that I am going there often. It is a drag to get up so early, but every time I actually do it, I feel so rewarded.
The concerts are great and range from funk to folk, from roots reggae to tango, from brass band to piano.
It is quite mixed and so is the audience. You see old people and families with kids. You see deck shoes and Birkenstocks. You see people wrapped in a blanket to shield from the cold of the morning. You see people going for an early morning swim. You see people sipping coffee and getting some pastries. You see people coming straight from clubbing, with glitter in their faces. You see very accurate hair cuts and dreadlocks. You see people sitting on benches, on the low roof of the building and on the ground.
At some point during the concert, the sun is rising above the mountains. It's a subtle moment, you often realize the warmth and the light only a minute later. From time to time, you hear a boat leaving the harbour or see a flock of birds flying overhead.
It is a precious moment and everybody there seems to be aware of it. And for me, it is one of the experiences that makes Geneva special.